How Much Money Can You Make With Amazon FBA Program?
Fulfillment by Amazon or FBA is one of the most popular ways to start selling on Amazon. Many people take advantage of Amazon's state-of-the-art shipping and fulfillment services, and amazingly FBA sellers can even earn more sales than Amazon Prime customers.
But in order to find out how much money can you make with Amazon, you have to know the whole process.
What is Amazon FBA?
Amazon's FBA is an eCommerce program that allows you to sell products on Amazon without managing your storage and logistics. All you need to do is send your products to Amazon, and they will handle orders, returns, and refunds.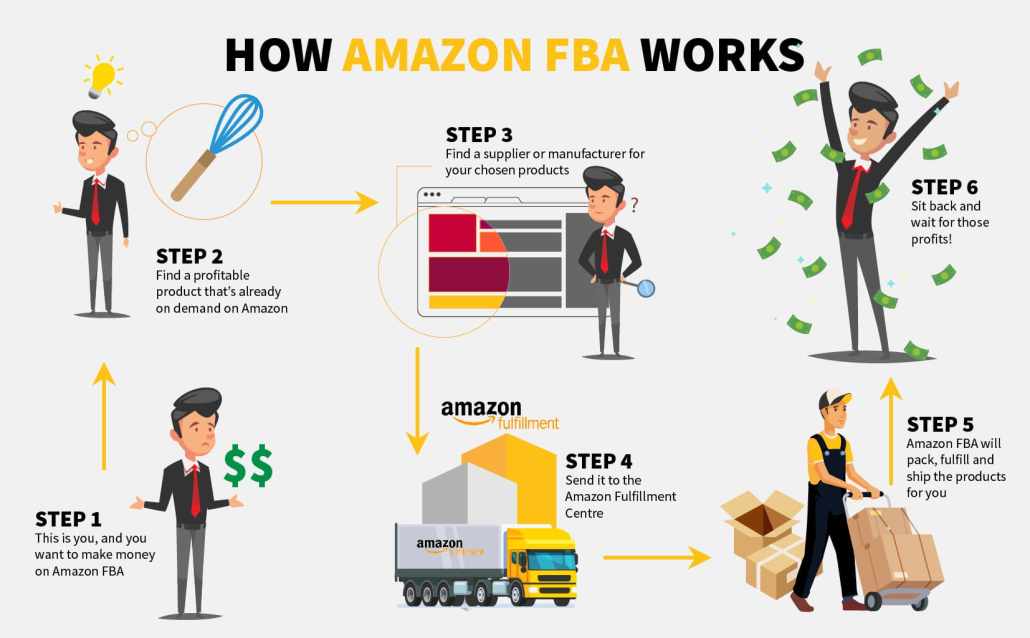 Yes, it might sound too good to be true but that is how the Amazon FBA program works.
However, everything comes at a price. There are two types of fees you need to know about:
Storage fees;
Fulfillment fees;
Both these fees include 24/7 customer service, as well as the cost of shipping goods to customers in one of the most advanced fulfillment networks on the planet.
Why Should You Start with Amazon FBA?
Well, if you are interested in starting your own eCommerce business, there is no better option than Amazon FBA.
Once you become an FBA seller, you will have a marketplace with more than 300 million active customers at your disposal, with more than 90 million Prime subscribers just in the United States.
This means that it is much easier to attract customers on Amazon than to start your own store.
Note: The average Amazon customer spends $700 per year, and Prime customers, even more, reaching $1,300 per year.
Many people make millions of dollars all by becoming Amazon FBA sellers.
Benefits of Amazon FBA
Reaching broader audience
As we mentioned, once you join the Amazon FBA program, you will be granted access to one of the biggest online shopping centers in the world.
Straightforward logistics and shipping
Starting your own eCommerce business and handling all logistics and shipping might be overwhelming for some people since it is a rather complicated process. However, Amazon will allow you to use their expertise and technology, so you don't have to worry about anything.
The worst nightmare for eCommerce store owners are returns. Whether it is a faulty product or customers are not satisfied with the quality, they can return the product to the seller. However, managing returns can be very frustrating, and fortunately, Amazon will take care of everything.
Since Amazon is the world's biggest eCommerce store, they have contact with all the major shipping carriers. The best thing is that most of the carriers are giving Amazon discounts on shipping costs, and they are passing those discounts to sellers.
As your business grows, it will come time to worry about storage space. Fortunately, Amazon has potentially unlimited storage space that comes at a price. Additionally, Amazon doesn't have minimum inventory requirements, so you would be able to send them as little as one product.
Delivery is one of the significant problems that eCommerce store owners have to manage. Longer delivery will increase refunds, and customers will not be satisfied with your store. Delivery is also the biggest problem for dropshipping since sellers manage the shipping.
However, Amazon has hundreds of fulfillment centers on almost every corner on the map. This means that wherever your customers are, they will receive the products in just a couple of days.
How Much Money Can You Make With Amazon FBA?
Now since you know how the process works, it is time to dig deeper into finances and find out why Fulfillment By Amazon is such a popular method of selling.
On average, new sellers on Amazon earn from $25,000 – $800,000, but this is a broad number, so let's jump down into details.
How Much Money Do Amazon Sellers make per Month?
Obviously, you cannot expect to earn a six-figure income in the first couple of months. Amazon FBA is a process that needs to be built, just like your own business.
Most FBA sellers make at least $1,000 per month in sales. Some super sellers can earn more than $250,000 per month, which is $3 million per year!
20% of Amazon Sellers make under $1,000 per month
50% of Amazon sellers make from $1,000 to $25,000 per month
20% of Amazon Sellers make from $25,000 to $250,000 per month
Lifetime Earnings For Amazon FBA Sellers
Since we got the monthly revenue out of the question, it is time to see some statistics about Amazon sellers' lifetime earnings.
Bear in mind that Amazon sellers are relatively new to the eCommerce game since this business model has been available for only a couple of years.
The majority of FBA sellers (more than 50%) have reached lifetime earnings of more than $100,000. Only 8% of Amazon sellers have achieved lifetime earnings from $500,000-$1,000,000 and 11% from $1 million to $5 million.
Profit of Amazon FBA Sellers
Sales revenue is one thing, and profit is another. Profits are crucial in order to understand how much money can you make with Amazon. The truth is, Amazon FBA sellers have to deal with low-profit margins. In fact, a high proportion of the new sellers on Amazon have trouble achieving profitability in the first few years.
The majority of Amazon sellers (more than 65%) have profit margins higher than 10%, and only 36% have profit margins higher than 20%.
Many different factors will affect your profit margins, such as sales volume, business expenses, types of products you sell, and much more.
Net-Profit of Amazon FBA Sellers
Considering that most Amazon FBA sellers start with this business model as a side hustle, the net profits are quite good.
Almost half of Amazon sellers (43%) have made lifetime net profits of over $25,000. Only 12% of Amazon sellers have made over $100,000, and 6% have become millionaires!
How Long Until My Business Becomes Profitable on Amazon?
The high proportion of sellers that have faced trouble achieving profitability in the first year should not discourage you from your dream.
In fact, the majority of people (67%) said that they were profitable within the first year of selling.
The first three months will be crucial since you will be dealing with lower profit margins (close to 16% on average), but as you move your business up, you should expect close to 25% profits by the end of your first year in Amazon FBA program.
How Much Money Do I Need to Start Selling With Amazon FBA?
One of the reasons why people are scared away from this model of eCommerce is the upfront investment. Many people don't have a large up-front capital to invest in this business, but don't worry; you can start with Amazon FBA even with a low upfront investment.
The majority of Amazon sellers (60%) said that they started their business with less than $5,000, and 29% started the Amazon FBA program with less than $1,000 and are still operating for more than five years.
Honestly, starting small correlates to greater success. If you are just starting with your Amazon business, it is much better if you start with lower capital until you get your business going. Plus you will be still learning about what types of products perform well, which means that your potential mistake for choosing the wrong product will be less devastating if you start with low up-front capital
Amazon FBA Expenses Include:
Amazon Fees;
Product sourcing (including samples);
Promotions;
Will Amazon FBA be Profitable in 2021?
Yes! Amazon's FBA program will continue to increase its popularity as well as competition. This means that starting as soon as possible will give you a better chance for success since you will have to deal with lower competition compared to the future.
Almost all (94%) of Amazon sellers dare optimistic for this year, and they plan to continue selling on Amazon.
This industry will continue to grow in the next upcoming years. Experts even predict that 95% of all transactions globally will come from online shopping until 2040.
The latest situation with the coronavirus made changes in people's purchasing behavior, which led to an incredible increase in online shopping.
Verdict
Fulfillment by Amazon is a very popular and profitable business to start with. You can easily average profits of more than $2,000 per month even as a new seller. That is more close to $25K in annual profits.
Now that you know how much money can you make with Amazon FBA, it is time to jump into action.
The best thing is that most of the people that achieve such profits consider Amazon FBA as a side business. The majority of FBA sellers spend less than 20 hours per week, which leaves you plenty of time to work somewhere else or start another business.