How to Start a TikTok Dropshipping Store
It has never been simpler to launch your own dropshipping business, thanks to the development of social media.
With the dropshipping business model, you can offer things that you don't keep on hand and purchase them as you require them from other merchants. By doing this, you may sell a wide variety of goods online and generate a profit on each one without maintaining an inventory.
Because it gives you a chance to put items in front of your audience, social media is essential for a dropshipping store. TikTok is a pretty modern social networking site where you can promote products.
You can learn everything you want to learn regarding dropshipping with TikTok in this article if you're a newbie.
We'll go over numerous options for advertising on TikTok and weigh the benefits and drawbacks of each.
In conclusion, you will learn all you require to effectively begin dropshipping with TikTok!
What is TikTok?
A social networking software called TikTok enables users to make and share little films.
You can find videos on TikTok for a variety of subjects. As TikTok provides producers with a huge library of sound effects, filters, and music samples, many videos include a musical theme.
You'll begin on the "for you" section, where videos that TikTok believes you'll find interesting are displayed. When the app is launched, you can swipe up on your screen to endlessly scroll through the videos!
You may occasionally swipe to a TikTok ad, which is when a user has paid the app to show their video. It's similar to viewing a Facebook ad while scrolling through the Facebook news stream.
How May TikTok Be Used To Promote Dropshipping Products?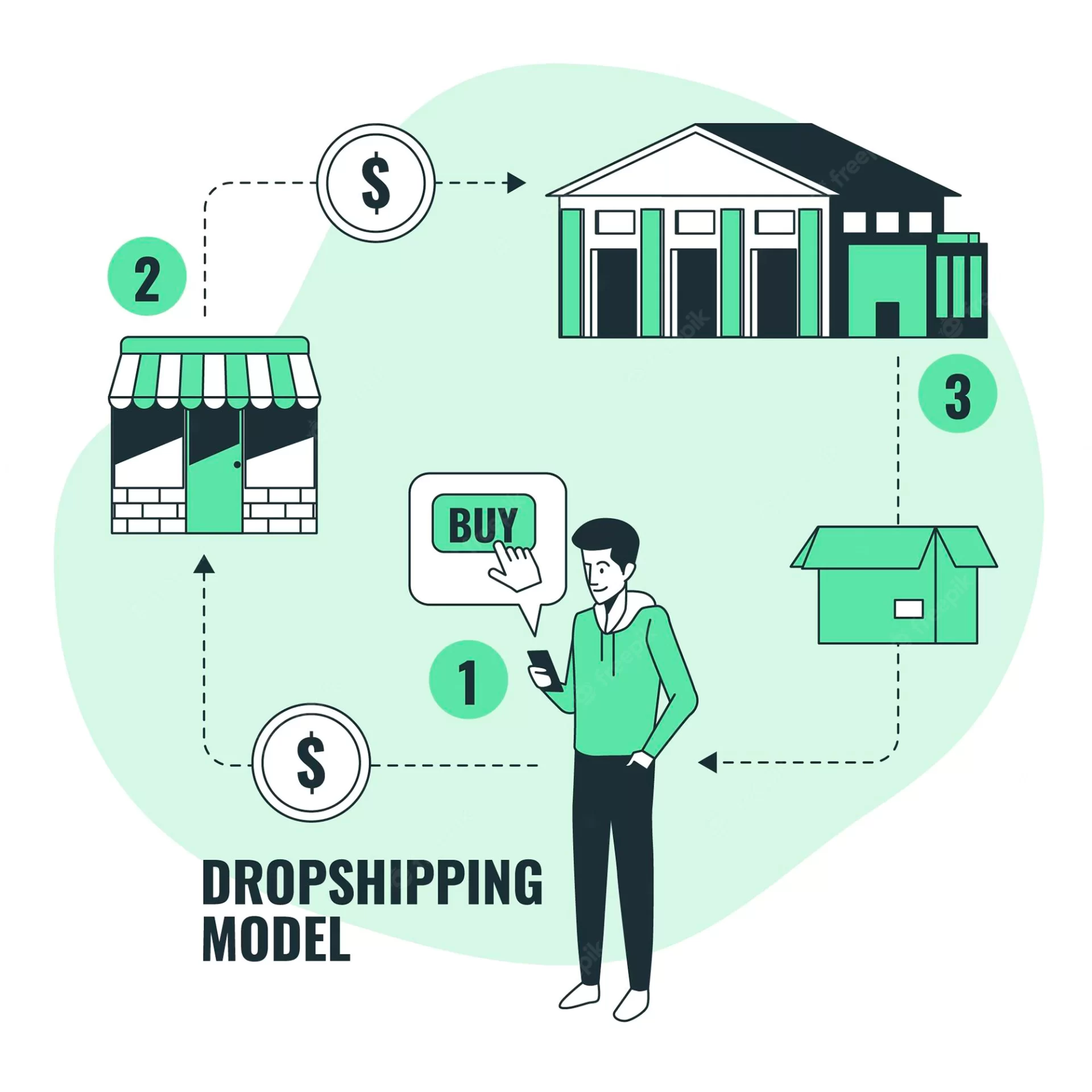 You've come to the right place if you want to promote your dropshipping products on TikTok but don't know where to begin.
On TikTok, there are three primary methods of product promotion. They are all quite comparable to other marketing strategies you may be aware of, such as Facebook ads, Instagram influencer marketing, and creating a theme page.
To get you started dropshipping with TikTok, we'll offer you an overview of each advertising strategy in this part.
If you want to learn more about dropshipping, click here.
Utilizing TikTok Ads To Promote
An advertising strategy similar to Facebook Ads is TikTok Ads. The big distinction is that you will be using TikTok for advertising!
TikTok offers a user-friendly platform where you can concentrate your time on everything related to targeting, ad production, insight reports, and ad management software, just like Facebook.
For online businesses, TikTok provides five main ad types:
In-Feed Ads: Users can view these ads while browsing through the "for you" section in between user videos. The in-feed advertisements on TikTok resemble the ones you see when scrolling through Instagram stories.
Brand Takeover: Anytime you open TikTok and an advertisement appear immediately away, you are viewing a Brand Takeover ad.
With the help of these advertisements, you may make a full-screen video available to your intended audience as soon as they launch the app. These are highly pricey because TikTok ensures that customers only see one Brand Takeover ad each day.
TopView: Like an enhanced version of In-Feed Ads, TikTok TopView ads are available on the app. TopView advertisements can be up to 60 seconds long, full-screen videos with auto-play and sound, and they appear at the top of the TikTok "for you" page.
Branded Hashtag Challenge: In the Branded Hashtag Challenge, businesses can design their own hashtag and pay TikTok to promote them to potential customers. Dropshipping businesses won't employ this advertisement very frequently because a Branded Hashtag Challenge campaign typically costs thousands of dollars.
Branded Effects: Finally, TikTok gives businesses a chance to create custom filters within the app. Users can then interact directly and amusingly with your brand by sharing these.
Should You Use TikTok For Dropshipping?
You might now be debating whether you should start dropshipping on TikTok or remain with Facebook and Instagram.
To be really honest, it's difficult to respond to this question. We hate to be the ones to say, "it depends," but in this case, it actually does.
While some companies will find greater success on Facebook and Instagram, others will be able to execute profitable marketing campaigns on TikTok.
Everything depends on the products you are selling, the type of company you are, and how effectively you can adjust to the platform you will be promoting on.
If dropshipping with TikTok is something you've never done before, you should give it a shot! Only then can you determine whether it is effective for your company or not.
Consider it a small test. Failure has a slight drawback, but success has a huge upside!
Four Last Tips For Using TikTok For Dropshipping
Keep in mind the group you are aiming for.
Examine the primary reasons why TikTok advertising fails
Keep your adverts brief and natural.
Take a look at the TikTok campaign optimization checklist.
Final Note
A relatively new strategy for expanding the customer base for your online store is dropshipping with TikTok.
We hope to have covered enough ground in this article to provide you with the knowledge you need to feel comfortable taking the first steps into the TikTok advertising market.
To be sure, there are many other platforms available if you decide TikTok isn't the best fit for your company.