Detailed Guide On How to Start an Online Service Business
Many benefits come from starting your own online service business. The internet is access to the biggest marketplace in the world, and you have to use it to your advantage.
It is much easier to sell $5 services or products to 100,000 people, rather than selling $100 services to 5,000 people. Either way, you will make the same profit. The point is that by starting an online service business, you have a lot of potential customers that are growing day by day.
Online service businesses are the most profitable way of making money online because it is a one-time investment that generates profit without any expenses for materials or reselling products.
If you can check out the reasons why you should start with an online business immediately, you can do it here.
Sometimes starting an online service business might be confusing, and you don't know where to start.
To make things easier, we've broken down the process into six simple steps that you need to follow so that you can succeed.
Steps For Starting an Online Service Business
1. Come Up With a Business Idea
This is the first step, whether you are starting an online service business or a traditional business. Even though this step sounds like a no-brainer, you will be surprised how often potential entrepreneurs jump into developing their business without having a clear idea.
Here are some things that can help you come up with a great business idea:
Determine your strengths?
The obvious starting point for your business idea should be your strengths. After all, your company will have the best chance of succeeding if you are good at what you are doing.
Developing a business idea around skill, hobby, or side hustle will give you a certain level of experience to leverage. You will establish a better connection with customers, and you will know their demands.
Why are you doing this?
Well, the obvious answer for many people is clear – to make money. However, every successful business needs to have a mission and a purpose behind it.
The process of building a company from the bottom up is challenging, and the only thing that will keep you going is your motivation. In other words, you should go for a business plan that fuels your passion.
What can you offer differently from other businesses?
If you want to start a business that is going to be successful right away, you need something to offer in return to customers. You can browse other online service businesses and try to think about what you can offer differently.
If you still don't know where to start, here are some online business opportunities that will make you a lot of money.
2. Validate Your Online Service Business Idea
After you've come up with a promising online business idea, it is time to validate it. This is a simple process of getting feedback about your business plan from other people. Acknowledging other people's opinions will help you decide if the business idea has potential.
There are a few ways you can validate your business idea, such as:
Looking through customer reviews online
The best way to get honest and general opinions about your business plan is to go through customer reviews online. That way, you can see how people respond to your business idea and review the overall feedback volume.
You can get a lot of information only by going through online reviews, such as market size, business concepts to avoid, customer care, and ideas you haven't thought of.
Survey potential customers
Once you know your business idea, you should determine the target audience for your service business. Determining the basic demographic characteristics of your audience will help you receive accurate feedback.
You should create a survey and ask potential customers to fill in the questions. Make sure the survey doesn't take too much time and only ask general non-confusing questions.
Ask your friends and family about your online service business
There is no better business idea validation than asking your family and friends about their opinion. You will receive honest feedback that will help you determine if you are on the right path.
3. Make a Business Plan
Once you determined that you are on the right path, it is time to put all things on paper. Creating a business plan is crucial for starting an online service business.
At this point, all you have is an idea for a service business, and it is time to go through all the procedures, finances, and requirements to make everything possible.
Conduct a market research
It is time to make an in-depth analysis of your business idea that will help you identify your competition, determine pricing models, and technical requirements for your business.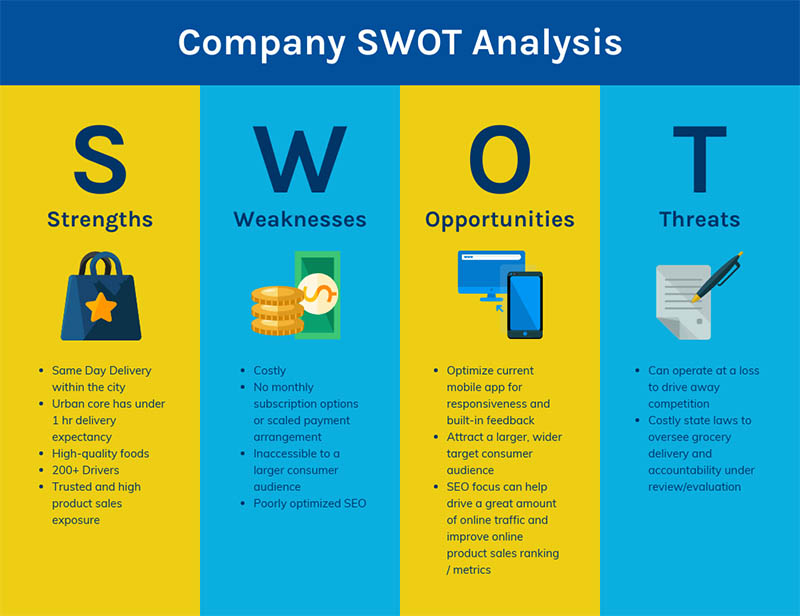 SWOT analysis is crucial when it comes to starting a new service business. Learning about your competition will help you identify your strengths and weaknesses, as well as opportunities and threats.
Make a financial plan
The reason why 95% of small businesses fail within their first five years is due to poor financial planning. This scary percentage should not discourage you from starting your online service business. In fact, it should motivate you to spend more time planning your finances.
Making a financial plan is the base point for every business. In this part of your business plan, you need to estimate your fixed and variable costs.
When it comes to online service businesses, the biggest expense comes right from the start since you need to create your software that offers the service. After that, your only costs will be just maintaining that platform.
You have to make an in-depth analysis of your startup costs and think about how you plan to fund your business.
Since we are talking about an online service business, your business's only way to generate income is by adding a payment gateway on your website or app. This is crucial for your business, and you have to dig a bit deeper into this segment.
Payment gateways are third-party companies that can transfer money from your client's bank account into yours. However, some payment gateways take a percentage per transaction and are not available in every part of the world.
Make sure you select the optimal payment gateway for your online service business and add the fee from each transaction into your profit margin.
See all payment gateways by country here.
4. The Brand Image of Your Online Service Business is Crucial
After you've gone through all the fundamental things behind your business, it is time to create a brand out of it.
First things first, you need to come up with a catchy name that has brand qualities.
At this point, you need to see your business as if it is already successful and well-known. How would you like to present your business?
Determining a slogan, creative logo, or color are all part of your brand attributes that need to be addressed at this stage.
5. Make Your Online Service Business Legal
The last few steps are crucial for creating a legitimate online business. Although you are starting an online service business, you need to see if some rules apply to your business model.
Get informed about online business regulations
You need to be prepared for everything, and you cannot allow a setback due to business regulations, especially if you run on a tight budget.
When it comes to online business, the biggest concern should be fulfilling privacy and intellectual property regulations.
Check out the specifics of online business law before you start your online business.
Register your business
You have to determine your company's legal structure and register your business before you start generating profits. Most online service businesses opt to form an LLC, but you should research more and find out which business model is right for you.
It is important to note that different requirements apply to different countries. So make sure you check out with your local secretary of state office.
Learn about all tax obligations as an online service business
Tax obligations vary from country to country. Each business model has different tax obligations, and most states have tax deductions for home-based online businesses.
At this point, it is a good idea to consult with a lawyer just to make sure you are covering all the necessary things in your business.
6. Become a Digital Marketing Guru
After making your business legal, it is time to attract customers. Since your business is new, don't expect customers to come flooding in. After all, there are many companies like yours that offer similar services.
The main source of income for online service businesses is generated digitally, so your main marketing focus should be digital marketing.
There are a few simple ways you can attract customers to your company, such as:
Establish Social Media Presence
Since you are running an online business, you have to spread the word about your company across social media platforms. 
Many benefits come from social media marketing, such as:
Establishing better customer relationships
Engage with customers and offer them your assistance
Target specific customers based on interests, behavior, or demographics
Build your brand awareness
Email Marketing
Email marketing has the biggest return of investment (ROI) compared to other digital marketing strategies. On average, you can generate $40 for every $1 spent on email marketing.
This astonishing number will be possible after you've built a big enough email list, but that takes time and hard work.
Guest Blogging
Guest blogging is another interesting and very effective way of advertising your online business. You have to hire other people to write about your company and post articles on other websites.
By doing this, you'll not only generate traffic on your website but also build up your domain authority and improve your SEO so your website will be displayed on top of search engines.
SEO (Search Engine Optimization)
Search engine optimization is crucial for gathering organic traffic on your website. There are a lot of things that are important for establishing the perfect SEO such as:
Website performance
Mobile-friendliness
Keyword density
Unique content
Valuable content
The best way to build up your SEO is by adding a blog to your website and targeting specific keywords with a decent amount of searches and low competition.
Final Words
These are the crucial steps for starting an online service business. It is not a simple process since there is a lot of competition, but you can succeed if you feel passionate about your business.
After all, online service businesses have tremendous potential, and you can build up your revenue to a six-figure income in just a few months.
So, don't wait and start your business now!