How to Start Your Freelance Career
Freelancing has been a career of choice for many people, and the number is continuously growing. Fortunately, with today's technology, you can apply for remote jobs anywhere in the world and build your freelance career.
Note: In this post, we will go through the best ways to launch your freelance career. So, if you like to speed things up and avoid going through all the trouble of unanswered applications, make sure you stick till the end.
Choosing a Freelance Platform
Nowadays, many websites offer freelancing services, and as a beginner, you don't know where to start. Every site has a different way of running things, and to find which one works best for you, you need to dig a bit deeper.
Fortunately, when I started my freelance career, I was given a heads up, so I already knew the path I needed to go. Every freelance platform has its advantages and disadvantages.
Currently, I work on UpWork just because I have more control over my workflow. You can apply to jobs by selecting the clients carefully and checking their reviews and background, whereas Fiver allows you to create a Gig (a job that you are willing to do) and wait for someone to hire you.
Choosing a Profession
Before I started my freelance career, I didn't expect that I can make money out of my skills. Even though I was a professional photographer, blog writer, and casual WordPress developer, I didn't believe that someone would hire me to work on their projects.
Choosing your profession depends entirely on your skills. When it comes to freelancing, there are thousands of available professions to choose from. You should find the thing you are good at and build your profile explaining your previous experience.
Remember, your freelancing career depends on the reviews you get from your clients, so be careful what profession you choose and make sure you can deliver.
Highest Paid Freelance Professions
A software developer is one of the most in-demand freelance skills, and one of the best options to make a lot of money. The job doesn't require any investment in specialist tools, and all you need is knowledge in the field of programming.
As in any job on freelance platforms, you have to build your reputation before you can charge a high price per hour for your services. There is no limit on the amount you can charge. Developers can earn from $150 – $1,000 per hour.
2. Web Design and Developing
Nowadays, it is hard to imagine a successful business without a website, and not everyone can build their website themselves. That is where web developers come in.
Back in 2015, according to UpWork statistics, web design was number 7 on the top highest paid freelance jobs. As you can see, this profession has gained popularity, and it is in high demand.
Web designers/developers can earn over $5,000 per month building websites or doing minor design customizations.
3. Content Writer
My current freelance profession is writing, and even though I have a full-time job outside my freelance career, I am able to make about $2,500 per month.
Content writing is an exciting career, and you can make much more money if you decide to invest in your career. My current rate is $30 per 1,000 words, but as you build your reputation, you can charge even more than that.
Let's do the math:
I need about an hour to write a high-quality 1,000-word article. If you focus on your writing career, you will be able to cover at least six articles per day.
So, 6 articles x $30= $180 per day or $5,400 per month.
It is a steady job, and the best thing is that there is constant work.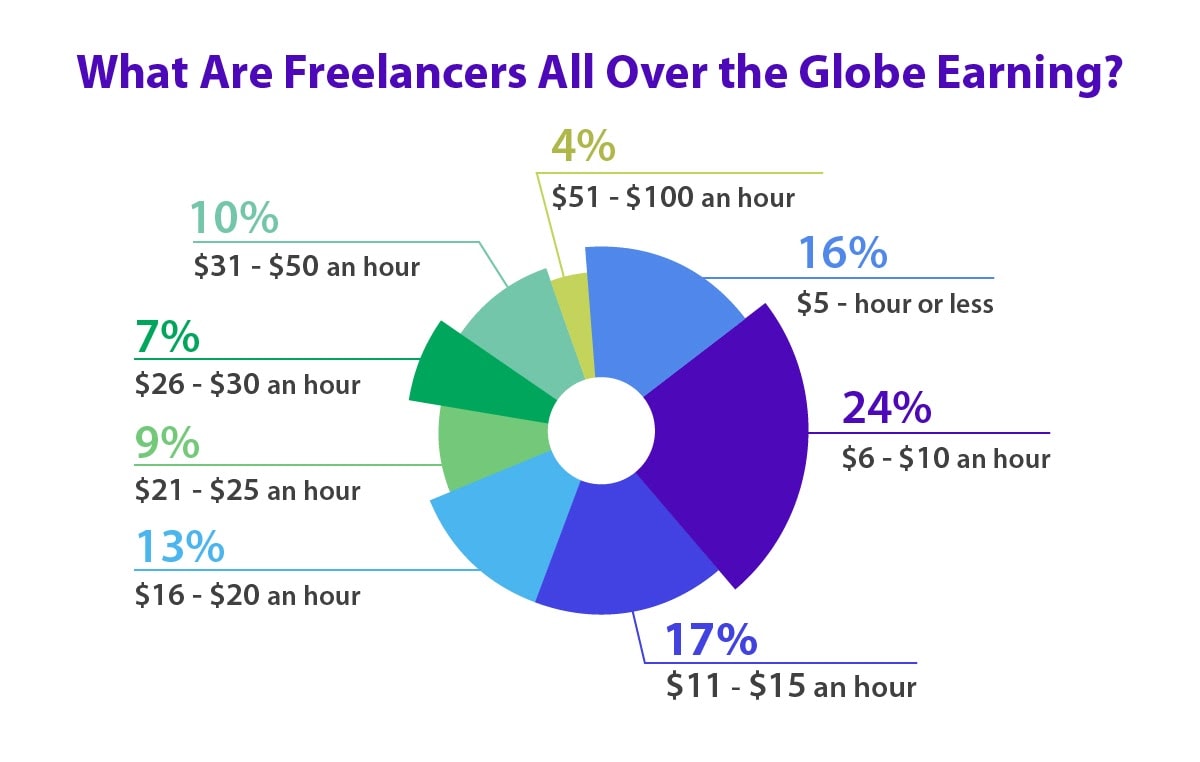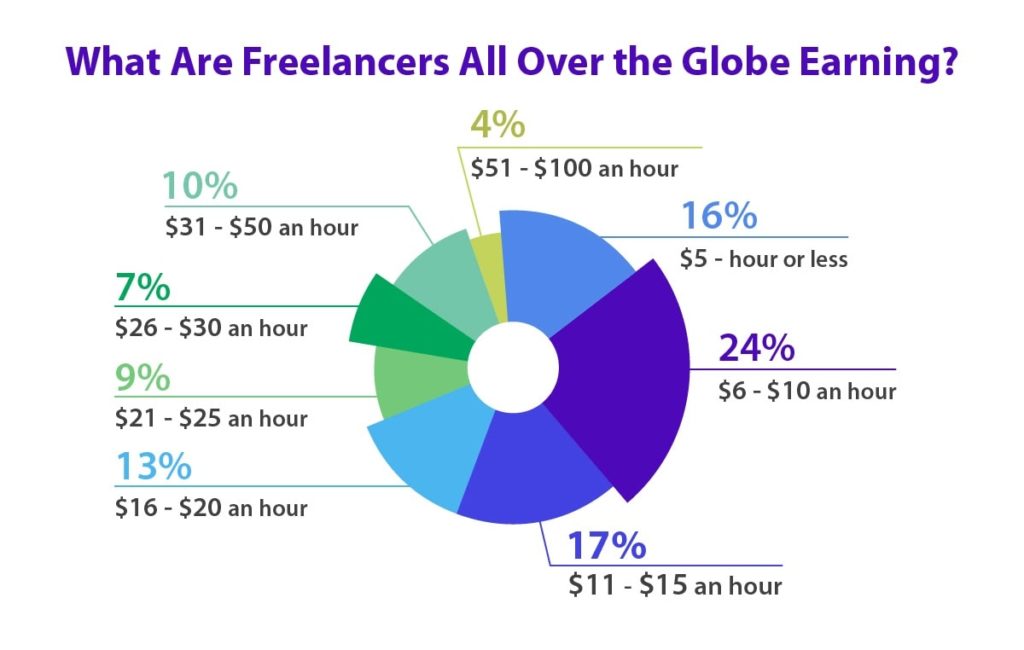 Building Your Profile
Your freelance profile is the most important thing when it comes to launching your career. Put yourself in your client's position; would you hire someone with no resume whatsoever?
Of course not. That is why you need to showcase your previous experience and write a professional-looking bio.
If you don't have anything to show in your portfolio, make sure you create samples of your work before you apply for jobs.
When I started my freelance writing career, I didn't have any articles to show my customers. Most of my previous blog writing was in a different language, so I applied to job offerings without submitting samples of my work.
I applied for countless job offerings and got no answer whatsoever!
That is when I decided to change my tactics and start to write articles that will go into my portfolio.
After I finished 5-1000 word articles and used them to showcase my work, I started to get results.
I was hired immediately for three jobs and two of them are still my regular clients.
Note: Clients want to establish real connections with real people. This means that using a real profile picture and profile verification is crucial.
Your profile is the gateway to success in the freelance world, so don't expect to go through it by copying other's bio. After all, this is your opportunity to make lots of money, so you should put some time and effort into showcasing your profile.
Applying For Jobs / Creating a Gig
After you finished building your profile, it is time to apply for jobs or create your gig, depending on the freelancing platform you chose.
If you decided to go with UpWork, you need to apply for jobs by writing a cover letter and submitting your previous work.
Note: It is very important to select the clients that offer some kind of job. Even though you are just starting your career, it doesn't mean that you should apply for every job without considering the client's rating. There are a lot of scammers and if you apply to work for an unserious client and they leave you a bad rating right from the start, it may affect your whole career.
The strategy that worked for me from the start was to apply to jobs that offer long-term collaboration. That way, if you get the job, you will have constant work for a long time. Of course, this depends on the type of work. For some professions, it is hard to score a long-term collaboration right from the start.
I also applied only to clients that have more than ten hirings in the past and who spent more than 1-2K on UpWork.
That way, you know you are dealing with professionals that will give you precise requirements.
Remember, you can be great at what you are doing but still get unsatisfying reviews due to poor client communication. Since I selected my clients, I am happy to say that my rating is 5.0 on all my previous jobs.
Cover Letter
The only thing that separates you from the other people that applied for the job is your cover letter.
The first impression is crucial when it comes to landing jobs. That is why you need to pay attention to few things such as:
Showcase your previous experience without writing unnecessary things that customers can view on your profile. Putting too much fluff will only chase potential clients away.
Focus on the important stuff.
Explain why you are the perfect candidate for the job.
Always be polite.
Avoid copy/paste your cover letter from previous submissions. Clients appreciate it when you take the time to write a cover letter suited for the job they are offering.
Always submit samples from your work, even if that is not obligatory.
Creating a Gig
Some freelance platforms allow you to create a gig where people can find out more about your skills.
Since there are thousands of gigs available in every category, your job is to create something unique.
When you are creating your gig, there are few things you should pay attention to, such as:
Check Out the Competition
Before creating your gig, you must check your competitors. That way, you will have a better understanding of how to promote your services, the price range, and delivery.
The first thing that people notice while they browse through gigs is the title. It is the best way to convince people to open your gig and see what you can offer. Creating appealing and yet informative titles is necessary if you want your gig to succeed.
Once potential customers open your gig, they should be able to get a better understanding of your skills. The description of gigs is just as crucial as profile description on platforms like Upwork.
Make sure you showcase your previous experience in the particular category and present a few samples of your work.
Boost Conversions With Visuals
Unlike other freelance platforms, on Fiverr, you can use visuals as a thumbnail for your gig that can attract more people. So, if you don't know your way around any photo editing software, make sure you invest in a good-looking thumbnail.
Starting Freelance Contracts
Once you've finished all the steps from above, there will be a time when the first contract will come. Bear in mind that there are hundreds of thousands of freelancers, so in some cases, the first job opportunity will not come as fast as expected.
In my case, I landed a job after 3 weeks of applying to jobs on Upwork. The trouble with newbies is that fewer people are willing to give them a chance and when they do, usually it is for a significantly lower price.
However, after my first successful job and satisfied client, I managed to get two more jobs, and then three more, and from there, the train never stopped.
Important: Make sure you over-deliver on every job opportunity. Clients appreciate it when you exceed their expectations.
Final Words
I easy to land a high-paid job and make a career out of freelancing. In my case last year, I made over $20K, and I still have a full-time job apart from freelancing.
You need to be able to showcase your brilliant work, not be afraid to learn new things, continuously improve, adjust to market requirements, and never stop pursuing your dream.