Can You Sell on Amazon Without Buying the Product
Selling a product without actually purchasing it beforehand will make things much easier, but is it possible with Amazon?
Being an Amazon seller for the first time can be stressful. Here is a comprehensive tutorial on how to create an Amazon seller account quickly.
How to sell on Amazon without having inventory in-house is a problem for those who wish to start selling but don't already have an established e-commerce firm.
Fortunately, Amazon is no longer only available to anyone who has delivered their goods to their warehouses or has partnered with them.
People wishing to switch to eCommerce sales but who have little or no past experience frequently sell without inventory on Amazon. You may launch your products more quickly and start making money as soon as possible by learning how to sell on Amazon without having any inventory.
This beginner's guide to selling on Amazon will show you how to get a full-time or passive income without needing to store your products.
Benefits of Amazon Inventory-Free Selling
Whether you employ dropshipping or Amazon FBA, a third party will keep your products for you, saving you the cost of maintaining your own warehouse space.
You can focus on your company's branding and marketing efforts when you don't have to worry about inventory.
By concentrating on underdeveloped markets and searching for new products to sell, this new Amazon selling strategy enables you to connect with new customers.
You only need to pay Amazon's sign-up and monthly fees, so there is no need for a huge initial payment. The US Amazon charge schedule is shown below.
It enables a more adaptable work schedule that enables you to organize your days in accordance with your preferences.
How to Generate Income on Amazon Without Having a Product or Inventory
Dropshipping
Because dropshipping is a low-cost endeavor, it is a well-liked solution for many sellers who want to launch a private label firm but lack the necessary finances. It involves advertising and reselling items that you haven't kept or stored.
You normally only have to worry about marketing and selling the products when you use a dropshipping business to sell goods. How to dropship on Amazon is detailed below.
You must be able to choose the appropriate dropshipping niche, assess your competitors, and choose a reputable dropshipping service before you can begin.
In addition to helping with order fulfillment, your preferred dropshipping service will constantly maintain track of the goods under their control.
If you want to learn more about dropshipping, check out this article.
Third-Party Fulfillment Centers or Third-Party Logistics (3PL)
The providers who help eCommerce experts with inventory management are known as third-party fulfillment centers. They take care of inventory storage, order packing, shipping, tracking, and customer service.
If you're having trouble finding an Amazon no-product platform that works for you, or if you're searching for other options, think about employing a 3PL provider.
The majority of companies benefit from working with 3PLs, particularly if they anticipate a rise in sales during a certain season.
Included In A 3PL Service Are The Following:
Reverse logistics
Services for pick-up and delivery
Receiving, gathering, and inspecting
Warehouse storage and inventory management
Full truckload (FTL) and less than truckload(LTL) shipping solutions
Digital Products
Another approach to making money on Amazon without any inventory is to sell your digital goods.
Digital products include things like downloadable audiobooks, electronic editions of your books, and print-on-demand items like art posters and t-shirts that you can buy on Amazon. Here is a comprehensive manual on how to market digital goods on Amazon.
You can sell uploaded books, audiobooks, or papers on Amazon like a traditional vendor if you want to. To sell POD items like t-shirts or coffee mugs, however, you must first sign up with a third-party print-on-demand (POD) business.
After that, you can promote your print-on-demand products by connecting your POD account to your Amazon account.
Fulfillment by Amazon (FBA)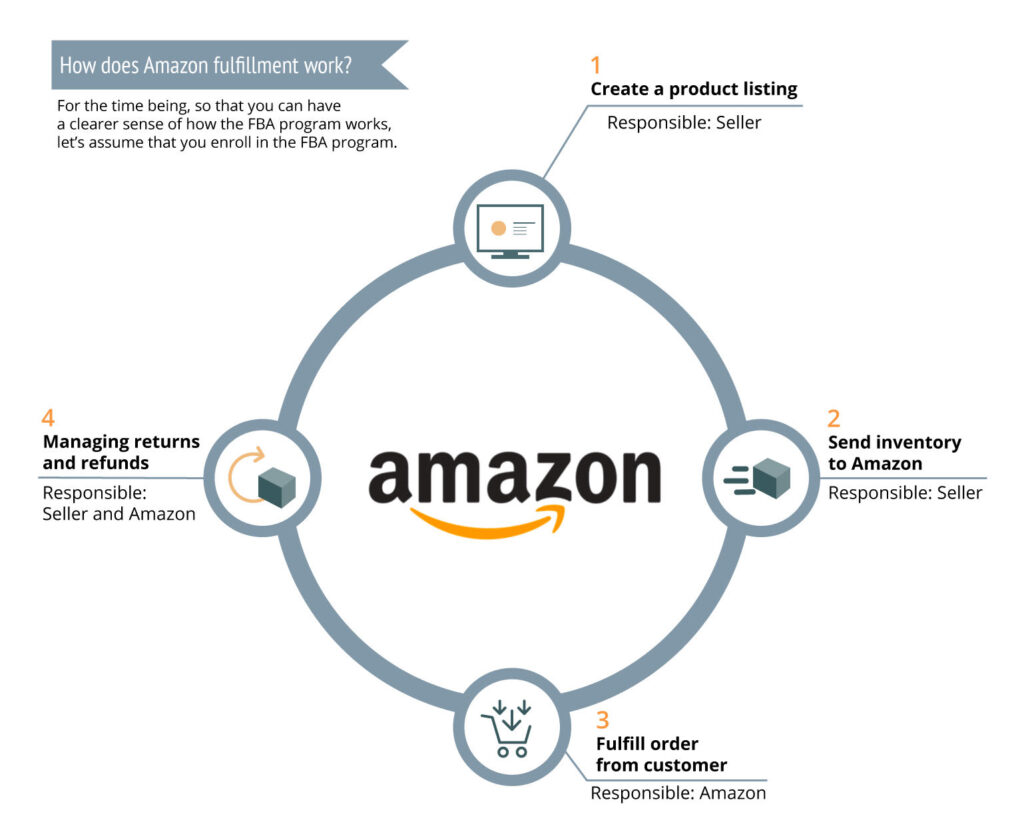 The FBA program from Amazon works by keeping your goods at Amazon fulfillment centers, where staff members choose, pack, and ship them as necessary and provide any necessary customer assistance.
In return, Amazon receives a monthly payment and a percentage of all sales that are made on your website.
Additionally, Amazon supports FBA sellers by offering a variety of tools and advantages like quick, effective shipping, widespread exposure to the Amazon brand, and thorough reporting.
For sellers who want access to Amazon Prime members as well as a comprehensive solution for their e-commerce brands, FBA is the best option.
If you want to learn more about Amazon FBA , check out this article.
The Most Effective Techniques for Finding Inventory for Amazon FBA
Retail Arbitrage
Retail arbitrage is the practice of purchasing items from retail establishments at a discount and reselling them on Amazon for a profit.
This tactic is used by sellers to find clearance and liquidation sales where items' retail prices are markedly reduced, enabling them to be resold for profit.
Purchasing in Bulk
To buy wholesale, one must get their goods in large quantities and at a discount from the producer.
The goal is to choose reliable suppliers with whom you can build lasting relationships in order to keep the supply and demand for your customers stable.
Online Marketplace
There are additional sites to look for FBA inventory online, including ThomasNet, IndiaMart, Alibaba, and eWorldTrade. This tactic involves making bulk purchases from overseas internet marketplaces at lower prices than wholesale.
When acquiring products and conducting product research through various internet channels, it's crucial to be watchful of any counterfeit goods.
When sourcing items, bear in mind the cost and the level of quality and pay attention to how satisfied customers are with the customer service responses.
Final Note
Having knowledge of how to advertise on Amazon without a product or with an Amazon platform integrated may help you select the best course of action for your upcoming project.
Once you're comfortable with the system, there are countless options for building a six-figure Amazon business without inventory, from using a dropshipping service to hiring an FBA provider.